IMPORTANT NOTE: Only OnTheAir Video can be use Live sources. This won't work with OnTheAir Video Express.
A Live Source allows you to select an incoming video signal and output it instead of playing back a clip.
For that you will need an additional video input. This additional video input can be on the same device that you use for output if it supports it, or it can be a different video device. Note that you can use more than one additional input and you will thus be able to switch from one to the other. You will want to make sure that these sources are genlocked for a better result.
Create Live sources
Once you have made sure that you have an additional video input, go to "OnTheAir Video (Express) > Preference > Live Sources". Then click on the + icon to create a new Live Source that you will be able to use: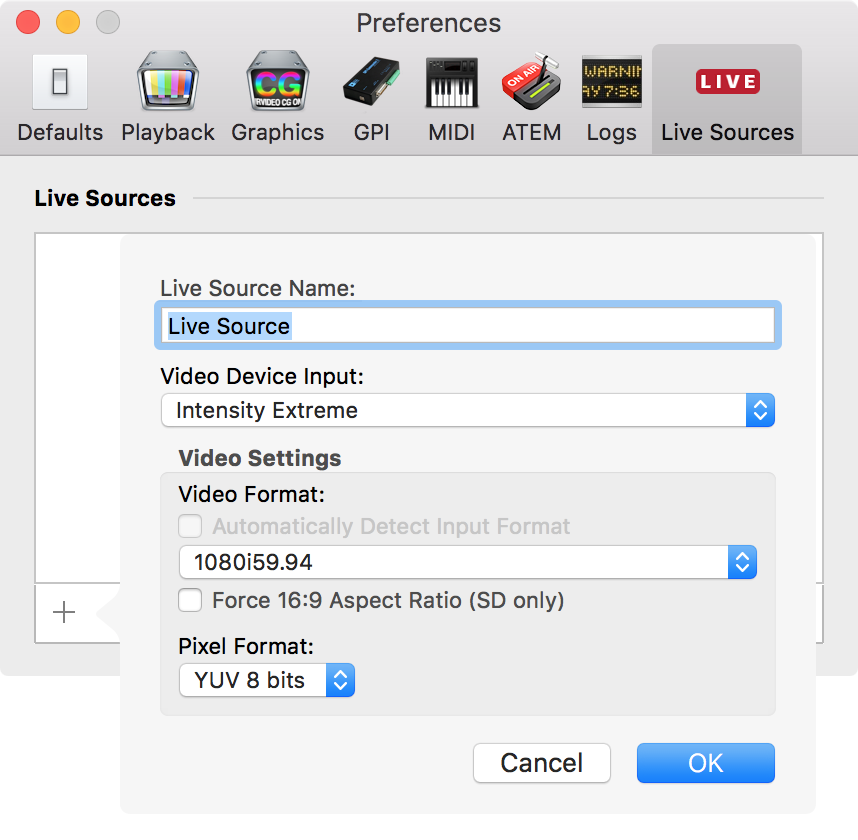 When you create a Live Source, you can set:
Live Source Name: is what will be displayed in the menu when you will create the Live item in the playlist. Note that if you want to copy a playlist from one computer to the other computer, we will try to match that Name. So the 2 computers can use a different Video device. Only the name is important here, so make sure to configure the same name on the 2 computers.
Video Device Input: this is where you select the Video Device to use, and below that you set the other settings such as format and pixel format. You can use a different format than the one used for playback. If it is a different frame rate, we will duplicate or drop frames to maintain sync, and if it is a different size, we will scale it to match the output resolution.
You can create multiple Live Sources.
IMPORTANT!! It is recommended to genlock:
the device used to output with OnTheAir Video (the one set in the playback preferences)
the device that generates the video that is getting in the Live input (not the device used for the Live input, because you can not genlock inputs, only outputs can be genlocked). Indeed, if the video signal that gets in do not use the same clock as the device used by OnTheAir Video to playout, you may have frames being dropped and gear some audio drops
Add Live Clips to a Playlist
Once you have configured your Live Source(s) in the preferences, you can add "Live Clips" in the playlists.
To add a Live Clip to a playlist you can:
Go to the menu "File > Add Live Clip..."
Use the keyboard shortcut "alt + L"
A window will popup where you can set:
A Name for your Live Clip: this will be for example "News", or any other name that describes what will play at that moment.
Live Source Name: if you have created more than one Live Source, select the one you want to use here
Duration: set the duration of your Live.
Note that a "Live Clip" behaves the same way as a regular video clip. You can
Pause it, in that case the video will not be paused (as it's the incoming signal), but just then if you never release the pause, the Live will never end.
Skip to next
Double-click on it to start it or on another clip to end it
About the delay
It is important to know that there is a delay between the moment the signal gets in and the output of the signal. This delay depends on the video card used, and will be between 5 to 9 frames. So this Live input may not be suitable in some configurations.