With OnTheAir Video you can overlay a static graphic on top of your video without additional hardware or software option.
If you need dynamic graphics overlay, you should consider using OnTheAir CG.
Enable the SMART Resize & Graphics option
The logo overlay option is only available when the SMART Resize and Graphics option is enabled:
Setup the Logo overlay folder
In Preferences > Graphics, setup the Logo overlay options:
Folder Path: This is the path to the folder where you will place your logos. See below for recommendations on the type of files supported.
Default Logo: Once you have selected a folder with supported files (see below), you will be able to select amongst them the logo that will be used by default. See below for more explanation on the default logo option.
Overlay logo by default: This sets wether the default logo will be overlaid on the clips you drag to a OnTheAir Video playlist. Note that this option does not change playlists that were already created, it will simply turn on the logo overlay option (and use the default logo above) on all clips that you drag and drop to a playlist after the option was enabled.
Automatically use images as logos: When enabled, an image file with the same name as the video clip and located in the same folder will automatically be used as a logo for that clip. This is very convenient to overlay a specific graphics over a specific clip automatically, just enable this option and place in the same folder a movie and logo file with the same name.
Recommendations for the logo files
File type. We recommend using .png files, but other formats are supported (tga, ...). Make sure it has an alpha channel and to test it before using it.
Size. The logo file must be the same size as your playback output settings. You won't be able to change its location, so make sure to place the logo or graphics where you need it.
Attached to this article, you will find a sample overlay logo.
Using logos in playlists
When you select a clip in a playlist and open the inspector (cmd+i), you should now be able to select a logo :

When a logo is enabled on a specific clip, an icon is shown in the playlist: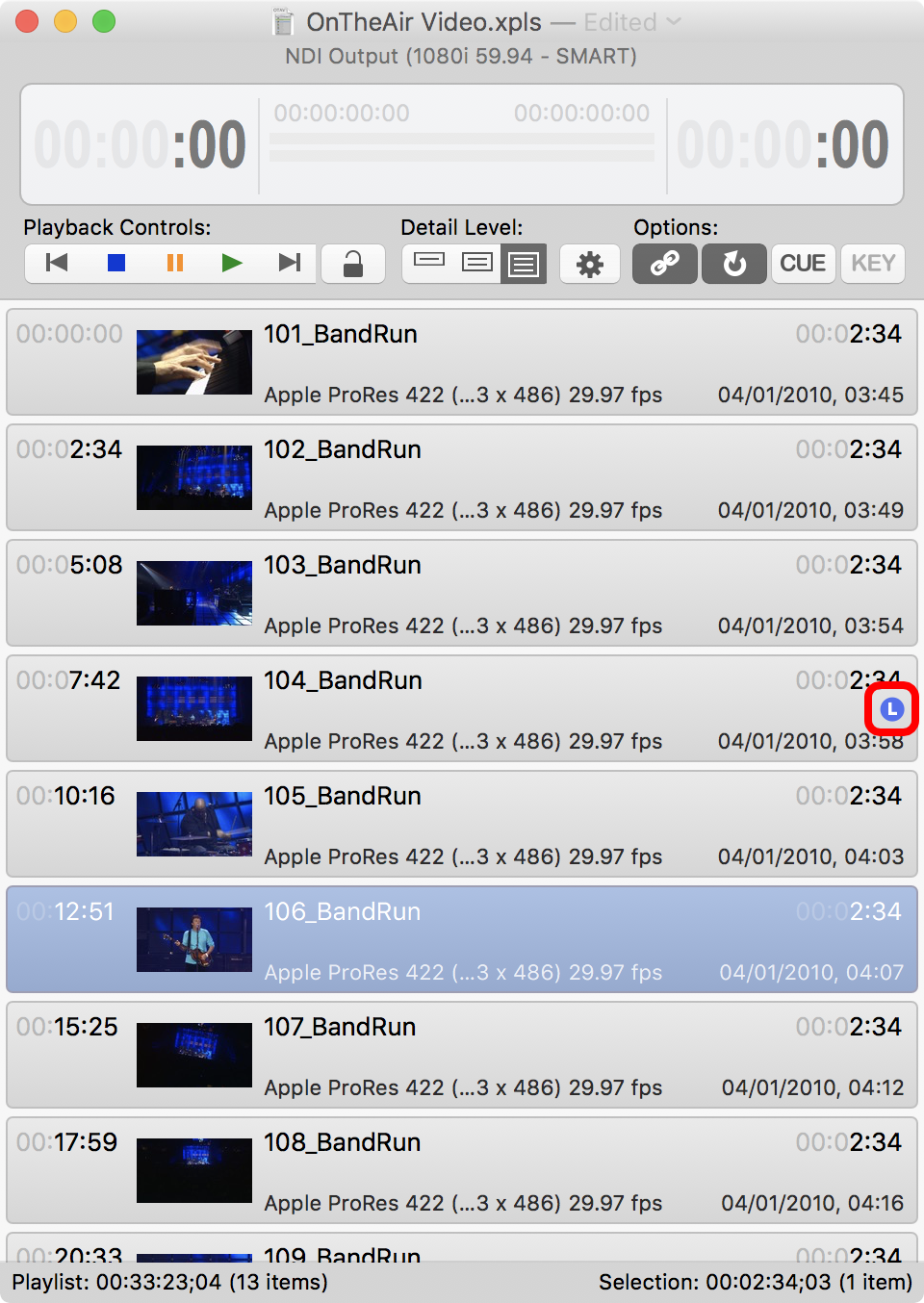 About the "default logo"
When in the inspector you use the "Default" logo option:
This means that OnTheAir Video will use the default logo that you have selected in preferences which is very useful if you want to change a logo for a season for example.