When you start your Softron application, or enable a source, or start playing back, you may see, in the "Activity & Logs" window an error such as this one:
Warning: Your Blackmagic device is used as a sound system output. This could create audio issues. Check our 'Help Center' for more info.
Or for older versions:
Error: Your Blackmagic device is used as a sound system input. Go to "System Preferences > Sound" and change the device used
What kind of error can be seen
First it is important to know that the issue is not consistent. If you don't have such an issue, you may ignore that warning, but otherwise you should follow the steps below.
When using their video device (AJA or Blackmagic-Design) as a sound system output or input, there could be the following issues:
used as an input: audio was "hashed" from time to time
used as an output: audio could have a kind of echo, this is particularly true if you have the output preview opened in OnTheAir Video (Express). Indeed, then your video output device will receive the audio twice. Once from the "main" output that we do with the video, and another time from the output preview window.
How to fix this?
If you experience issues, below are 2 solutions depending on wether you have an available sound input or output on your Mac.
If your Mac has another sound output/input available
Go to the System Preferences > Sound > Output and/or Input panes, and select the other device instead of the AJA or Blackmagic-Design device. To select it, it must be highlighted in blue such as here::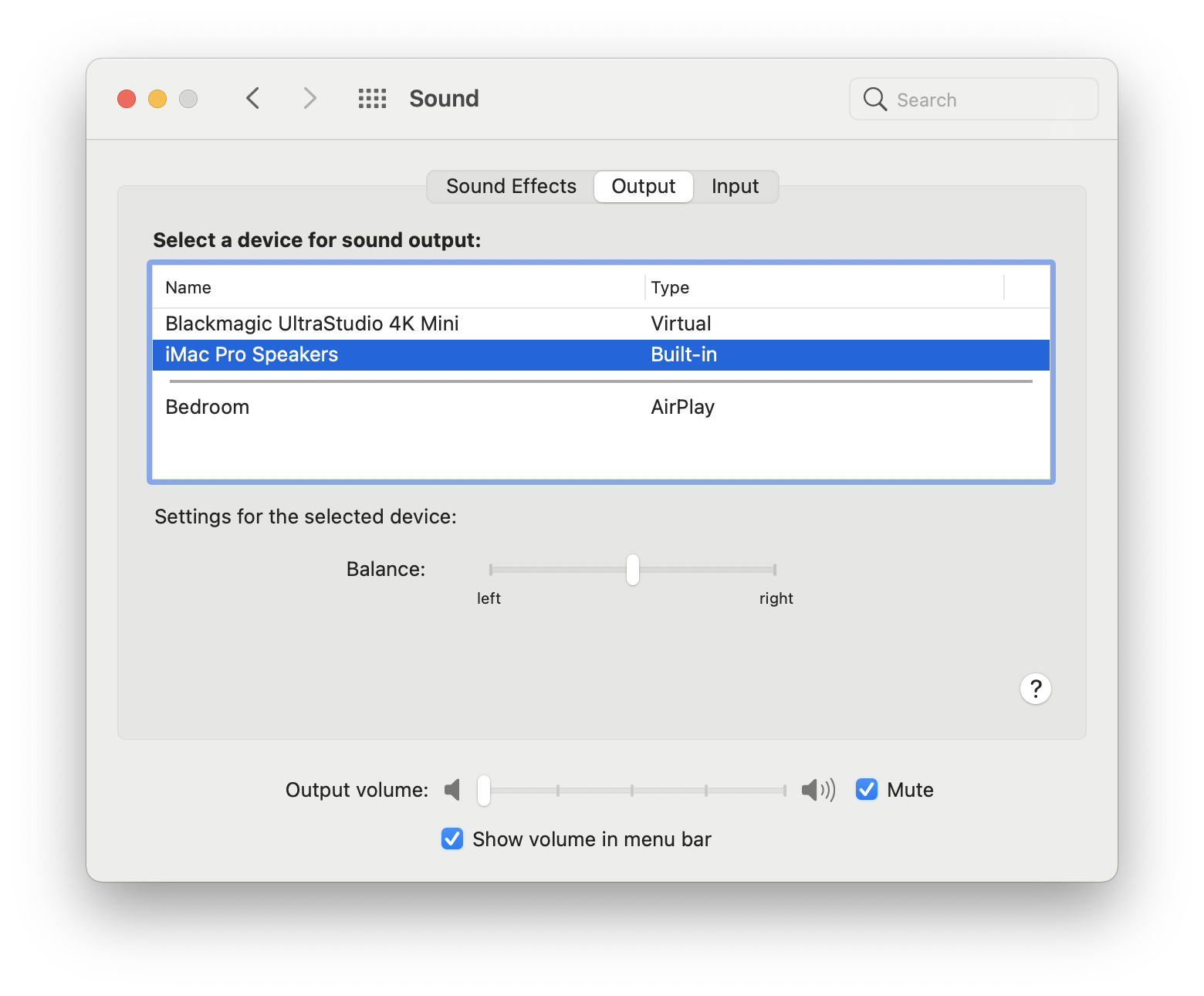 Note that for the output, you could also change the device used from the control center: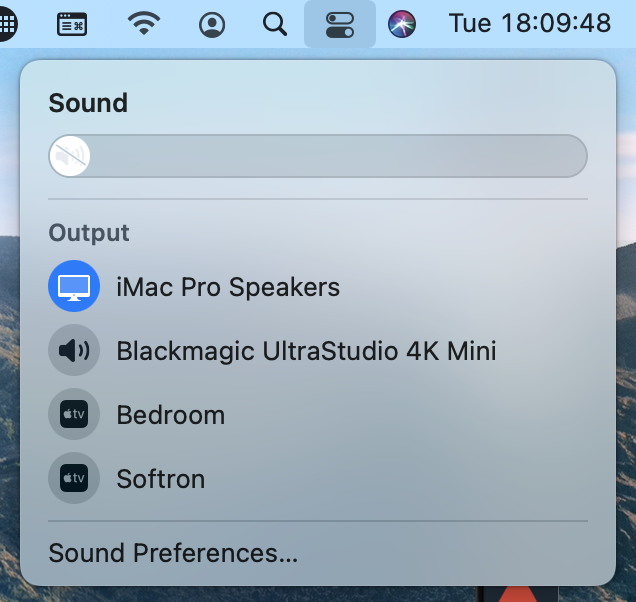 If your Mac does NOT have another sound input
If your computer does not have another audio input available (this should not be the case for the output as they all have a built-in audio output), the card will be selected by default, as in this example:
In that case, you are not able to select a different audio input. There are a few solutions.
Solution 1 - with hardware:
Use a "real" external audio device
The best is to connect a real audio input to your Mac (for example a small USB audio device). Once connected, use it as an audio input for the system as explained above.
This requires to put your hands on a hardware audio device. This is what we recommend, but if you don't want to do that, you can opt for the virtual audio device.
Solution 2 without hardware needed:
Use a "virtual" audio device
DISCLAIMER: we are providing this tip as a workaround if you have the audio issue with some devices, but we are not developing nor can take responsibility with the solutions below.
If you can't (or don't want to) add a real physical device, you could install a "Virtual Audio device". There are a few solutions around. Here are a few:
These will install virtual inputs and outputs to your Mac that you can use as if there was a real input available. See for example with Loopback:
: